Marc Oliver grew up crafting leather into usable items and clothing; He now spends his time designing and hand-crafting intricate western saddles and cowboy gear. Marc creates each original piece of working sculpture from his shop located in the foothills of the Rocky Mountains. His bachelor's degree in fine art and extensive design and sculpture background are exemplified in his love of the west.

Special requests are his focus, from custom saddles to automobile dashboards, no project is out of the realm of possibility. Marc's 25 years of experience with the tools and materials, design and function of saddlery make him uniquely qualified to handle almost any project.
Each saddle is built from the finest materials available and selected for beauty and durability. The process starts by consulting with each customer on their needs, then those ideas are incorporated into each piece. Traditional tools and expertise are use to bring the leather, metal and wood together to create beautiful and functional pieces of working sculpture. Every aspect is an art form, from the hand-made saddle trees to the ornate sterling silver conches and buckles. The result of hours of intricate work is a balance between design and function, an organic flow that works to blend the rider with his horse.

Marc makes saddles and western items for a broad range of clientèle from professional horsemen and women, to true working cowboys, to weekend trail riders and collectors. Every customer has a different idea of what makes the perfect saddle, and the results are a variety of different items that reflect the traditional American West.
Customers from around the country give glowing reviews of Marc's work.
One client says of Marc; "He's just an amazing artist. I would rate him is the top two or three saddle makers in the world that I know of" - Chris Clark, Horseman, Collector

Another customer says "Marc is unique in the saddle industry in that he is extremely talented in all phases of leather work and is willing to make the
"Marc is dedicated to keeping the traditional western art form of saddle making alive through research of
early makers work and the use of traditional tools and methods." - Jack Renshaw, Horseman

"I have not really had a chance to let you know how great the chaps turned out! They fit Suzanne just as if you had taken the measurements in your shop. We were both amazed and needless to say, she was thrilled, really thrilled! Thank you again Marc for all of the joy that you created!" - Jack Reich, Horseman

"Did you get the email and photo from my cell phone today? Zookie and I LOVE the saddle. It is so comfy and I feel like I can't possibly fall out of it.....Zookie tried to buck me off today and I didn't budge! Thanks Marc Oliver Saddlery!" - Eric Mailman, Horseman
Hey Marc, I know I already said it but I wanted to let you know how much I love my saddle! I took it out again this weekend and it is so amazing to sit in such a centered saddle. I know my riding position will get better and better since the saddle supports a centered seat. AND it is so comfortable! Plus the saddle did not roll like all the others I've tried. Sangria has no withers and is very difficult to fit and I'm so happy to know she's comfortable and that the saddle stays in place. It was so nice to not have the cinch super tight in order to keep if from rolling. The outing went even better after I ran into an old friend on the trail and when I got off my horse she gasped and exclaimed how gorgeous my saddle was. She loved the intricate detail and thoughtful artistic quality that went into it. So I've got it all! A saddle that fits my hard-to-fit horse, a comfortable saddle that puts me in the right position, and last but not least – it is so beautiful I am proud to go anywhere with it!-Candace Strope, Trail Rider
Here's a picture of my husband in his fabulous new chaps, riding the morning of his birthday. He absolutely loves them! And they fit him perfectly. He doesn't like to take them off. He puts them on just to feed the horses!I asked him if he was going to sleep in them, to which he replied..."maybe".Anyway, just wanted to say thanks again.-Rachel Prather
Marc, I just wanted to let you know that with my new saddle, chinks and hat my horse and I couldn't be cuter. I want you to know how happy I am with everything you've done for me, thank you so, so much. - Karen Scalf
Marc got my saddle today and I have to say you're as good as they say you are! This saddle is remarkable, beyond my highest expectations. It will be a treasured part of my collection for many years to come, thank you again. - Todd McCane

Mr. Oliver,  I wanted to write to tell you how much I have enjoyed looking at your artistry. 
I found your website through a Western Horseman ad and to say I was blown away 
with your website would be an understatement. I am a graphic designer and artist 
by trade so I can appreciate the quality of not only your leather work but also 
with your website. I have always loved beautiful authentic cowboy gear and yours 
is some of the best I have seen. Seeing your stuff has made me want to put off 
buying anything else and just save my money to invest in one of your pieces of 
art. 
I also wanted to compliment you in the graphic design of your website. So many 
times I have gone to websites of craftsmen that did beautiful work but their ads 
and website were so poor that it distracted me from wanting me to buy anything 
from them. Your site is easy to navigate, enhances the beauty of your work and I 
love that the prices are clearly noted.
I look forward to one day doing business with you. If I could I would buy one of 
everything you make. Well done sir-Michael, Trail Rider

Marc, and Caden Oliver on their Colorado Ranch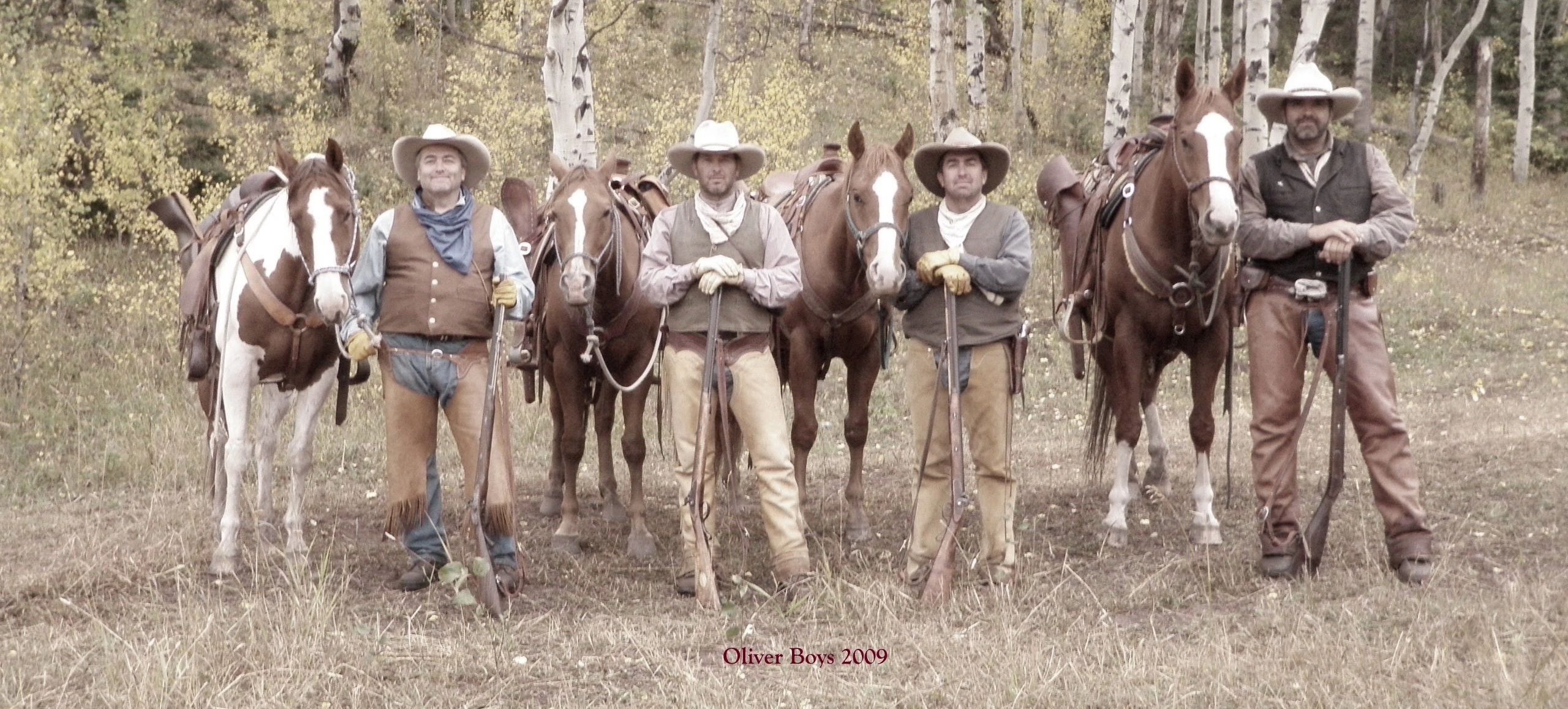 Horsing Around With My Brothers In the Colorado Mountains

Working the High Lonesome!